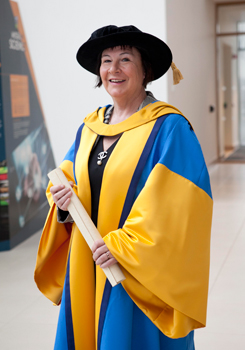 The report of the Independent Review of Issues Relating to Symphysiotomy is out. So too, at long last, is Prof. Oonagh Walsh's final Report on Symphysiotomy in Ireland 1944 -1984.  If you need a reminder of what symphysiotomy is, and of the human rights abuses which characterised its practice in Ireland, you can see Survivors of Symphysiotomy's submission to the UN Committee Against Torture here. In just under two weeks' time, Survivors of Symphysiotomy will put their case when Ireland is examined under the ICCPR. Doubtless, the redress scheme, which is the primary outcome of Judge Murphy's review will be a topic of conversation there.
Here are 9 talking points on the Murphy redress proposals, which she presents as a tentative sketch for a potential scheme. Comments are most welcome.
Ex gratia: Payments under the scheme will be made without any finding of liability. I noted the difficulties with ex gratia schemes back in February.
Walsh and truths The Walsh Report is not an adequate substitute for an individualised finding of liability. It cannot vindicate  women's right to an effective remedy. Section 1 of the Report repeats the Draft Report already published, and roundly criticised by Survivors of Symphysiotomy. Section 2 makes some amendments, but does not change the overall tenor of the draft. It explains and clarifies the draft's arguments, and buttresses them with testimony obtained from survivors who were members of Patient Focus,  of Survivors of Symphysiotomy Ltd., or of no organisation at all. It is important to note that the largest survivor group – Survivors of Symphysiotomy – boycotted the second stage of the Walsh Report, as a means of demonstrating their objection to its draft findings. The second part of the report criticises perceived misrepresentations of the Draft (82-83). However, it is interesting to note that, by and large, the testimony of those survivors  interviewed by Walsh chimes with that submitted by Survivors of Symphysiotomy to the United Nations Committee Against Torture, particularly on issues such as the outcome of symphysiotomy (pp 87-95) and the impact on family members (98-103) . Where the Walsh report breaks away, in my view, is in its interpretation of the reasons why symphysiotomy was performed. She places more exculpatory emphasis on a particular reading of the interaction of a rigid form of Catholic moral teaching and medical care, and on the good faith practice of medical practitioners. There is insufficient space here to discuss the Walsh report in detail.  But what is clear is that we now have two very different public  readings of the harm done to these women, only one of which  has been rubber-stamped by the state. When the government talks about 'closure', it is important to bear this ongoing contestation in mind.
Payment: Survivors of Symphysiotomy had asked for individualised assessment of women's financial entitlement. Judge Murphy has not met this request. There are three bands of payment under the scheme (€50,000 for surgical symphysiotomy with no long-term effects, €100,000 for surgical symphysiotomy with long-term complex effects, and €150,000 for symphysiotomy 'on the way out' or post-birth). Most will receive €50,000. Judge Murphy notes at p.46, based on precedent,  that the sort of claim which she values at €100,000, would likely reap damages of €250,000 to €275,000 in court. Survivors of Symphysiotomy had valued the women's negligence claims at between €250,000 and €450,000. It is also worth noting that in order to qualify for the higher awards, a full medical assessment will be required, to prove, on the balance of probabilities, that the woman's additional injuries are attributable to the symphysiotomy rather than to e.g. subsequent births or difficult delivery. It will be interesting to see what form those standard examinations take, and whether women will be offered the opportunity to select independent medical assessors. Many women, of course, have already undergone medical assessments and are already receiving treatment for injuries which have been diagnosed as the result of their symphysiotomies.
Giving up legal claims: Participants in the scheme will have to discontinue any legal claims, including those against the state. Interestingly at p.49, and following the example of the Lourdes Hospital Redress scheme, Judge Murphy advises that those currently involved in High Court litigation who wish to discontinue it, should receive sums towards the costs already incurred. She recommends that applicants to the scheme should also receive money to cover the cost of legal advice in respect of an application to the scheme.
A better deal in the High Court? This is a particularly interesting redress scheme because it emerges against a backdrop of (in March) 154 ongoing cases in the High Court. Judge Murphy presents her scheme as unburdening vulnerable women who are, on her reading, unwilling to accept the complexity of their predicament. At page 48 she describes the legal claims which survivors of symphysiotomy have brought in the High Court as 'frail', worrying, stressful and risky. She is not in a position, given the nature of the report, to assess the individual claims for herself. However, it is by no means clear that every woman will receive a better deal under this sort of scheme than she would obtain in the High Court.

First, she cites the Statute of Limitations as a particular obstacle to success in the courts. Of course, the Statute remains in place for these women because the government made an abrupt U-turn on original plans to lift it. Moreover, some judges will be unwilling to allow questions of delay to upset every historical symphysiotomy claim. This is particularly true of symphysiotomies 'on the way out'. In just such a case –Kearney v. McQuillan – the Supreme Court held in 2010 that the defendant cannot be prejudiced by delay where the justifiability of the procedure even on the basis of the standards prevailing in obstetrics at the time of the operation is in issue. This is because witnesses are not necessary to determine that sort of claim.
Second, she suggests that it will be difficult for negligence claims to succeed. In 2012, again in the Kearney litigation, the Supreme Court accepted that, even by 1969, symphysiotomy was not a generally approved practice in Ireland. It was supported by a minority of doctors, who only considered it justified in a small number of circumstances. In their submission to UNCAT, Survivors of Symphysiotomy document the essentially experimental nature of symphysiotomy in Ireland at certain periods. There are likely to be cases which fall outside the limits which that minority of doctors set for themselves and which, accordingly, could ground successful negligence cases.
Third Judge Murphy devotes significant time to discussing whether claims could be based on the absence of informed consent to symphysiotomy. This is a very real issue – many women did not discover the true nature of the procedure performed on them until decades after the event. Here again, Judge Murphy emphasises (at p.29) the impact of delay, and the death of the doctors involved, on attempts to establish whether reasonable efforts were made to obtain women's informed consent. (At pp.28-30 the report discusses whether women would likely have consented to symphysiotomy anyway, even knowing the risks, because they were reluctant to have Caesareans. It strikes me as very odd that this line of reasoning is substantiated by extensive quotation from the writings of the doctors who performed symphysiotomies. There is also an incongruous reference at p.16 to a resurgence in modern interest in certain kinds of surgical symphysiotomy – presumably performed under circumstances vastly different to those documented in Ireland – as alternatives to Caeserean. At p. 20, the report notes that many survivors now feel that Caesareans would have been safer. Judge Murphy here  may be misreading the Walsh report in assuming that a certain set of Catholic views on reproduction was as persuasive to all women, in all relevant decades, as it was to powerful doctors and laity.)
Finally, in the High Court, litigants would obtain a statement of liability, whether they win or lose.

A better deal for the State: On Judge Murphy's reading, the State is set to assume a central role in the symphysiotomy litigation. Following O'Keeffe v. Ireland,litigants are likely to argue that the state should have done more to supervise the hospitals which it funded (though Judge Murphy notes at p.33 that it might be possible to refine this reading of O'Keeffe to let the state off the hook). The point of an ex gratia scheme is that it is cheaper for the State to create one than to defend claims in court. Judge Murphy sets out the calculations at p.50 of her report. She sets out a scenario in which 10 symphysiotomy claims are successful at an equivalent rate of damages to the cases already litigated, and the remainder settle. In this scenario, she estimates the potential cost to the state at €95m. The redress scheme is a relative bargain at €34m – cheaper, for instance, than the LE Samuel Beckett.
Who pays? Should the State lose some of the cases in which it is involved, it would be entitled to seek contributions from relevant insurers.  However, the review was unable to assess the likely financial value of these contributions, because the necessary information was not made available to it. Most insurers were unwilling, in the absence of direct instruction from the hospitals where symphysiotomies were performed, to discuss specific cases. Large portions of the report containing 'commercially and litigiously sensitive material' relating to insurance are redacted. The report also notes at p.30 that a large majority of hospitals are unable to trace their insurance records, and so may be unable to make use of their insurance, assuming, of course that insurance taken out decades ago would be sufficient to meet awards of damages calculated at today's rates. The report devotes a little time to the financial circumstances of the hospitals where symphysiotomies were performed, and suggests that they would find it difficult to meet the cost of litigation.
Apologies: Judge Murphy notes that the Institute of Obstetricians and Gynaecologists have twice apologised to women who underwent symphysiotomy. In fact, the Institute has offered its 'unreserved sympathy and support' to the women, while maintaining the line that symphysiotomy was justifiable in most circumstances. The Medical Missionaries of Mary, who ran the hospital at Drogheda where many of the procedures were carried out, similarly regret women's 'hurt' and 'trauma'. (p.65) The women who suffered this procedure have received no formal apology or admission of liability. Any state apology, Judge Murphy says, will be a matter for the government and the Attorney General. Perhaps confident that a redress scheme will resolve the matter, the Minister for Health says the question of an apology 'does not arise'.
Death of a baby: P. 19 briefly raises the issue of babies who died during symphysiotomy, and whose parents were never informed of their place of burial.
Early on in the report, Judge Murphy says that 'there was nothing at all furtive' about the practice of symphysiotomy. That says as much about the power of the men who performed these operations as it does about their bona fides. I have suggested before that there is something furtive about the way in which Ireland deals with past wrongdoing. These are the terms on which demand for a public inquiry into symphysiotomy is to be defused, and they deserve public scrutiny.