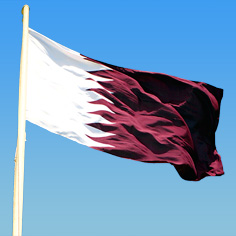 The decision last week to award the World Cup in 2022 to Qatar was widely considered to be a surprise, beating Australia, Japan, South Korea and the United States. Qatar is the first Middle Eastern country and first majority Muslim nation to host the tournament, and for this reason alone the decision is significant. Furthermore FIFA's policy of bringing the tournament to new states can be contrasted with UEFA's failure to award the 2016 European Championships to Turkey (a scandalous decision with Platini as head of UEFA ensuring that instead they went to France, despite the fact that they have been played there twice before – see for example Guus Hiddink's outraged reaction). In my opinion, it is to be welcomed that a Muslim nation is hosting the World Cup. But there my support ends.
Grand sporting events offer an opportunity for raising awareness of human rights, and there are many issues in Qatar centred on civil and political freedoms and the rights of women. However a major source of human rights violations in the state and the region is the treatment of migrant workers.  Indeed the majority of Qatar's population are non-citizen migrant workers, two-thirds according to some estimates, the vast majority from South Asia – India, Pakistan, Bangladesh – and the Philippines. The system operated in Qatar is found across the Gulf. Migrant workers are offered work by agents in their home state. Upon arrival the agreed terms are changed, passports are confiscated, and workers spend several years paying back the debts they accrued just to bring them there. Conditions in housing are often squalid, with workers kept in 'labour camps' separated from the rest of society. Labour regulations such as health and safety are poorly enforced, with little oversight for the millions of labourers. Qatar's glamorous neighbour, Dubai, has attracted more attention on this issue; see for example this excellent Al Jazeera short documentary on migrant workers called Blood Sweat and Tears or photos from one of the labour camps. But the practices are the same.
Migrant workers attract little attention in human rights literature, as they are not particularly sympathetic; they are not a typical 'vulnerable group', or a minority, or suffering political oppression. A common reaction to advocating for migrant workers' rights is the belief that they are better off in the Middle East than they are in their home states; otherwise they wouldn't go. I have been involved in this topic through the NGO Mafiwasta (remarkably, the only human rights organisation on migrant workers in the Gulf, who number in the tens of millions), and there is little sympathy for their plight. The organisation's director, Nicholas McGeehan, has recently highlighted the opportunity presented by the 2022 World Cup to expose brutal labour practices, and begin a process of accountability and reform centred on granting minimal rights to workers, including trade unions which are banned.
A further hidden issue is female domestic workers, millions of unregulated foreign domestic servants who have no access to any labour protections. This a typical horror story (again from the United Arab Emirates) or this one which I am going to put a warning over; don't read this if you're squeamish.  At present the International Labour Organisation is working on drafting a new convention on domestic workers, which might provide some protection and begin to close this huge gap in global labour standards.
South Asian migrant workers will be building Qatar's stadiums. It will be interesting to see how the state will cope with global attention, and if proper working conditions for World Cup projects will be put in place to avoid criticism. At present, for millions of migrant workers across the Gulf, there is little of the region's fabulous wealth on offer or any expectation of basic human rights standards. They are modern slaves building glittering monuments in the deserts.